Perth Acer Laptop Repair Specialists
Computer Mechanics will be working on your computer within
2 hours or it's FREE!

Most repairs are completed within 24 hours (unless parts are required)

Perth Acer Laptop Repair Specialists
Acer Repairs Perth by Computer Mechanics
Bring your Aspire, Swift or TravelMate laptop/ultrabook into Acer Repairs Perth. We're part of Computer Mechanics group and our workshop is just north of the CBD.
If your problem laptop is less than 12 months old you'll be covered by the standard warranty and you'll have to send your notebook to the Acer National Service Centre. That warranty won't cover accidental damage; i.e. the most common kind. So if you've spilt coffee, wine or water on your keyboard or you've dropped it and smashed the screen or a power surge has fried the motherboard, bring it to us instead. You'll likely get it back quicker and at a lower repair cost.
We can offer you two other options; we do call-outs, appropriate for network issues, wifi and Internet connectivity problems, and for certain software issues we can log in remotely. Give us a phone call and we'll let you know what solution is appropriate and the costs and benefits.
Most issues require troubleshooting; a power problem for example could be caused by a faulty connector or power adaptor, a broken cooling fan or a processor malfunction. Almost every time we have a solution and there's no need for data recovery work.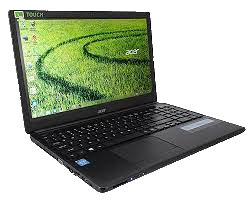 People put up with performance issues for way too long. A slow computer can be sped up in many ways. Most of them are quick fixes that cost less than you'd expect. RAM is cheap. New solid state hard disks can run five times as fast as an old one and they boot up in 20 seconds. They're also cheap. A hard disk defrag or malware removal can improve speed dramatically.
A good clean-out once every two years is desirable and allows for pre-emptive maintenance, e.g. replacing the battery before it dies. Most people will wait for it to fail but sometimes that happens at a critical time.
Acers are subject to hinge breakage and this can render a laptop unusable. It's a problem which takes more time to fix than you'd think. Hinges have multiple connection points inside the chassis and require delicate surgery.
Cracked and broken screens are common with all laptops; it's because every manufacturer now prefers metal edges to plastic. There's just no shock absorption when you drop one. We can easily replace – in some cases on a same-day basis.
Software problems include virus removal, getting Windows 10 to update properly and a range of networking, email and driver issues. We have spent hundreds of hours on these problems and our experience and diagnosis tools will save you a lot of time.
We're happy to quote for Acer parts replacements and your cost estimate will be reliable. If there's troubleshooting involved we may need to quote you a range. Sometimes the Computer Gods smile on us; other times not.
We're very comfortable with Acer repairs; we know the product well. Call us on 9325 1196 and one of our technicians will help you out.
Acer is a registered trademark and trade name. Computer Mechanics makes no representation that it is associated with Acer or is a licensed repair facility.